NEW DELHI: Bareilly's DM R Vikram Singh said today he is disappointed at the negative reactions to his FB post about people entering Muslim areas "by force" and "shouting anti-Pakistan slogans". He has also deleted that post.
Mr. Singh, in his earlier post from Sunday, raised concern on  the religious clashes in Uttar Pradesh's Kasganj . He questioned the growing  "trend" for some people to first "enter Muslim localities by force, raise anti-Pakistan slogans and then create ruckus". He said, "He is hurt and angry at what is happening "in the name of nationalism", because the violence in Kasganj left one person dead, another seriously injured and dozens of houses, shops and vehicles gutted.'
Many people on social media were unhappy and reacted negative to his post on Facebook  and that's likely the reason he deleted that post on Facebook. However he psoted another short note where he tried to explain his earlier post.
"I had hoped there will be an academic discussion (on the violence) but unfortunately it took a different course. I'm extremely sad. Self-improvement is the main aim of a discussion. It appears that my intentions to promote dialogue was resented by certain people," wrote Singh today on Facebook.
He further added that he did not intend to hurt anyone and that he wants "the controversy to end".
The DM said it was his "moral responsibility" to maintain communal harmony, and wrote that the country's "Muslims are our brothers" and have nothing to do with Pakistan.
"Muslims are our brothers. They have the same blood. Same DNA… The sooner we understand the concept of unity and harmony, the better it will be for our country, for our district. Pakistan is our enemy. There is no doubt about it. Muslims are ours too. There is no doubt about that as well," wrote Singh
Bareilly DM & former Army officer R Vikram Singh questions the trend of entering Muslim localities and shouting anti-Pakistan sloganshttps://t.co/zYkceYtJYk

— Saikat Datta (@saikatd) January 30, 2018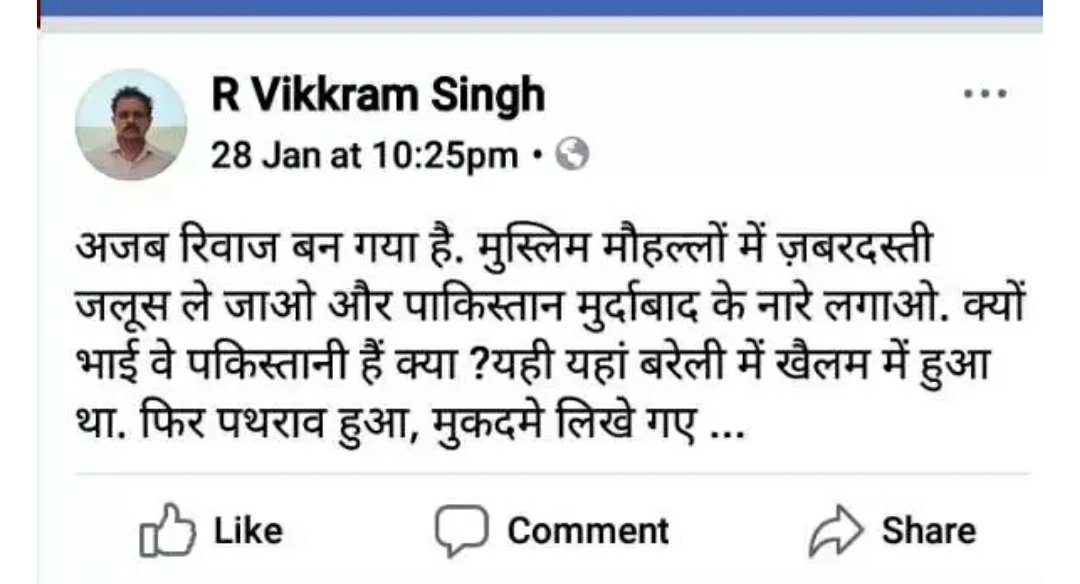 In another post, Singh questioned why slogans were never raised against China, "a bigger enemy" of India." Cheen to bada dushman hai, tiranga lekar Cheen murdabad kyon nahin?" (China is a bigger enemy to us. Why isn't the tricolour being waved and anti-China slogans shouted)?"
Sad
Heart
Haha
Love
Wow
Yay
Poop
Angry